CyberSaturday
From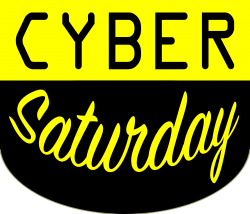 In iedere even maand 3e zaterdag CyberSaturday, Lezing/workshop met daarna met je eigen project aan de slag en optioneel gezamenlijk eten.
Programma
Voor iedere CyberSaturday zullen we ongeveer het volgende programma volgen. Hiervan kan per geval van afgeweken worden, dus check wel de betreffende dag.
14:00 Activiteit / Lezing
15:30 Bezig met je eigen project
18:00 gezamenlijk eten (Pizza of iets anders)
... verder met je project?
Na de lezing is er gelegenheid om aan de slag te gaan met een eigen hard of software project. Bij TkkrLab is het volgende beschikbaar
kleine elektronica onderdelen
wifi netwerk met meer dan genoeg genoeg bandbreedte
indien je zelf je laptop niet wil/kunt meenemen een gasten laptop (met Linux geinstalleerd)
gebruik van onze tools zoals lasercutter, 3d printer, electronica lab, etc.
Inspiratie voor een project kun je vinden op : TkkrLab projecten, Hack-A-Day], instructables arduino projecten
Er zal ook gelegenheid zijn om mee te eten, er word op dat moment gekeken wie er mee wil doen en wat er word geregeld.
Locatie
Spinnerij Oosterveld
Rigtersbleek Zandvoort 10
7521 BE Enschede
Lokaal 2.08 (2e verdieping)
Tel. Nr : 06-10745590