CyberSaturday greymanproject
From
Event Greymanproject
Name
Greymanproject




Duration
2017/06/17 - 2017/06/17
Information


* Location: Spinnerij Oosterveld, Rigtersbleek Zandvoort 10 7521 BE, Enschede
* Open from: 14:00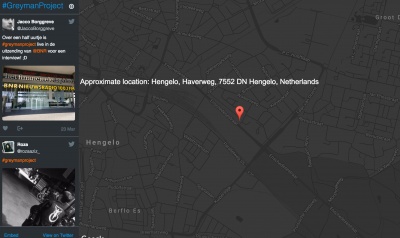 Over graymanproject : Jacco Borggreve, a Dutch artist who decided to take his privacy and made it open source. He'll live stream his position to his site, for everybody to follow. This raises a lot of problems with insurance companies and more. Why? We don't know. Facebook has this information and nobody seems to care, so do Google, Apple, Twitter and many more platforms.
More about this project :
Programma
14:00 Lezing door Jacco Borggreve met aansluitend Q&A
15:30 Bezig met je eigen project
18:00 gezamenlijk eten
Na de lezing is er gelegenheid om te blijven en kennis te maken met TkkrLab en onze projecten. Wil je zelf ook met een project bezig, dat kan. Neem je project / laptop mee en ga samen met TkkrLab mee aan de slag.
Er zal ook gelegenheid zijn om mee te eten, er word op dat moment gekeken wie er mee wil doen.
RSVP
We willen graag een beetje idee hebben hoeveel mensen er komen dus svp rsvp/meld je aan. Dit kan op een van de volgende manieren :
Reserveer een plek via meetup
stuur een email naar bestuur [at] tkkrlab [dot] nl .
via facebook
vul je naam hieronder in (wiki account nodig)
Locatie
Spinnerij Oosterveld
Rigtersbleek Zandvoort 10
7521 BE Enschede
Lokaal 2.08 (2e verdieping)
Tel. Nr : 06-10745590
Wie zijn er
Zeno4ever
Michiel
.. vul je naam in