Pixelmatrix
From
Project: Pixelmatrix
Name
Pixelmatrix
Initiator
fridgefire and Duality
Status
99.9% finished
Skills
Artnet, Networking, OLA,
Summary
a led matrix with pixel's
introduction
What to do if you are a member of Tkkrlab and there is money for projects , right !! Build a matrix.
It´s build by fridgefire (Michiel brink) and the py-art-net software is made by Duality.
How It works
The controller is a raspberry pi B+ 2 (the quadcore version)
For standalone use, the program py-art-net send artnet to localhost.
OLA (Open Lighting Architecture) transforms artnet to spi for the LEDS.
Events
overkill 2015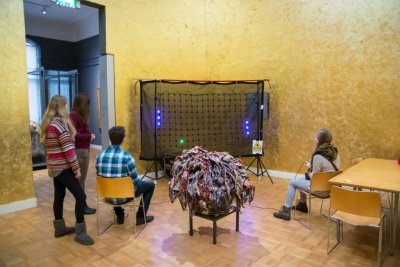 we are on rtvoost for a little while
Green Fibrations festival 2015

Green Vibrations After intro party 2015
The Pixelmatrix on the background ;)
BYOB twente 2015
Gogbot 2015
eth-0 winter 2015
hackerhotel 2015
Chaos Communication Camp 2015
Green Vibrations festival 2016

Haxogreen 2016
Zuiderfestival 2016
Gogbot 2016
vids
pong audio FFT snake on ceiling
Shoppinglist
https://docs.google.com/spreadsheets/d/1LMD9UBYM3mBSynUIz6z3fzqSJY4-IPp62qofOf_iwzo/edit?usp=sharing
DIY
.

| | |
| --- | --- |
| It´s a simple design. There are 20 pixels on one ledstring. Cut the string in half so you got two strings with 10 pixels each. Do this multiple times and make sure you have 17 strings of 10 pixels. | |
| secure the strings with cable ties on the trailer net. | |
| Connect the 17 strings together. Connect the data and gnd lines in series and connect the voltage rail (and the other ground) in parallel. You have to connect the voltage rail only on the top of the matrix. | |
| Connect it to the raspberry pi. Warning!! voltage and current is different. | |
| Connect the 12V on the ledmatrix to a power supply with a minimal current of 12A. | |
Software
We are using multiple software. for normal use without gui, we use py-art-net. It´s based on the OHM2013 software and Duality extended it for the Pixelmatrix.
For live use at music festivals I am building Artnet support into minotor my fork.
also, glediator is awesome software to, but it isn´t opensource.
Request IP
To find the IP adress of the Pixelmatrix, you can use an artpol scan.