Blender Monday
From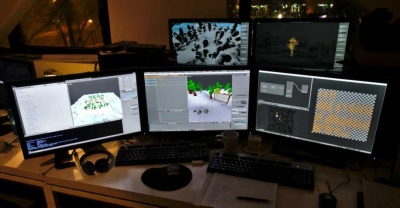 Iedere maandagavond van 20:00 tot 22:00 bij TkkrLab. Waarschijnlijk zijn we meestal wel eerder open check status.
We gaan met een aantal geïnteresseerden bij elkaar zitten en aan de slag met Blender. Op deze manier kun je van elkaar leren en tips geven. Het is dus niet een workshop of les, je kunt op een willekeurig moment inhaken. Neem je eigen laptop met numpad en muis met middenknop mee.
Software
Ik wil ergens beginnen maar weet niet waar!
Tutorials and Resources
Tutorials
Dingen die je leven met Blender kunnen veranderen:
Deze hebben sommige mensen die meedoen al gevolgd, mocht je dus vastlopen hebben andere mensen het vermoedlijk al opgelost:
Sources
"Good artists borrow, better artists steal." -Picasso
blendswap Lots of stuff, CC0 is very practical.
Quotes
"Blender is mijn moker." -Hoxolotl (want je kan er serieus alles mee doen).
"If everybody is doing it, it must be stupid." -Ton Roosendaal ( Blender BDFL )