IoT - Bouw je eigen TTN node
From
Event Bouw je eigen TTN node
Name
Bouw je eigen TTN node




Duration
2016/05/21 - 2016/05/21
Information
Build your own TTN node


* Location: TkkrLab, Hengelosestraat 525, Enschede
* Open from: 14:00
TTN Node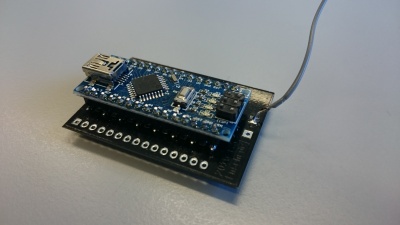 Build your own TTN Node / IoT Sensor in one afternoon. Some soldering and programming required.
This TTN Node exist of the folowing components (Cost € 25,=) :
If you join this workshop you get all of the above parts to make the Node. You are also welcome if you have your own parts and want a own TTN design, we can then exchange experience and tips.
Join this workshop here.
Instructions
Test Arduino Nano - Program blink, change frequency, blink.
Software serial on pins 10, 11. Add wire for loopback.
Solder RN2483 - Press down with finger at correct location. Tin on corners.
Solder rest of pins: 6, 7, 32, 33, 34 - the others are not neccesary
Break header strip into two peices of 15 pins.
Use spreader to hold right angle header strips in place.
Solder first and last pin of header strips.*
Remove spacer, solder rest of header pins.
Press Arduino Nano down on soldered header strips.
If everything looks correct, solder the Arduino to the header pins.
TTNCTL
Download the zip file and place the library and example files in your Arduino folder.
Open TXfastViaTTN.ino
Change line 74 to your own AppEUI, NwkSKey, AppSKey and DevAddr
Program the code to the Arduino.
If everything is correct you should see packets arriving in ttnctl.
Optional
Install the TTNmapper Android app and help us map the coverage of the network.
Read the internal temperature sensor of the Arduino and transmit the value over TTN.
Add an external prototyping board, add sensors, transmit the values.